Product Owner - Qualifio
About Qualifio
Qualifio is Europe's most powerful online platform to engage digital audiences and collect data by creating and publishing viral interactions on websites, mobile apps, and social media.
Qualifio is one of the fastest-growing Belgian software start-up, ranked for 5 years in a row in Deloitte Fast50. More than 400 publishers and brands are users of Qualifio, including RTL, RTBF, De Persgroep, Mediahuis, VRT, Medialaan, France Télévisions, Nestlé, L'Oréal, Kinépolis, Orange, MediaMarkt, etc.
At Qualifio we believe people can only achieve big things by having a great team to work with!
We have offices in Louvain-La-Neuve (HQ), Paris, Amsterdam & Madrid and have a headcount of 70 employees.
About the project
Qualifio is currently strengthening its platform by building a new module around loyalty and gamification. Qualifio is now looking for a Product Owner that will convert that MVP into a workable, sellable, and scalable product.
About the position
Qualifio is looking for a motivated and ambitious Product Owner to join the team in Belgium in charge of the loyalty part of the product. The cross-functional team currently consists of 5 members who work under the supervision of the Head of Product.
As Product Owner, your role is to convert the product vision into new features that will best fit what customers want. You serve as the voice of the client and work with internal teams and external customers to analyze the needs and align the product roadmap to strategic goals. Under the direction of the Head of Product, you will collaborate directly with the development, design, and customer-facing teams (Support, Sales, Customer Success).
Key Responsibilities
Collaborate with the Product Designers to create an incredible UX generating an immediate "wow-effect"
Co-own the product roadmap
Gather feedback and research through quantitative and qualitative data (data analysis, user/prospect/customer interview, etc.)
Define features and user stories that guide the development teams.
Attend daily standups, backlog grooming, and all agile rituals.
Define and analyze success criteria and product KPIs for the new features.
Set expectations for delivery together with the team.
Follow our competitors and the industry.
Work closely with our Product Marketeer to determine release communication plans.
Help out with the testing of new features.
Your success will be measured through the perfect translation of business needs into technical specifications and your ability to maximize the product value for our customers.
What we offer
The possibility to work at the intersection between business, UX, and technology and for customers ranging from transport to insurance, from luxury to tourism, etc.
A highly qualitative software product, giving you the opportunity to demonstrate your full talent.
An excellent opportunity to be immersed in digital marketing while working in a fast-moving, rapidly growing, and fun environment where people are central.
The possibility to join a growing Product team within Qualifio and define the future of the Qualifio product.
A fun and healthy work environment
An open, flexible, and challenging environment, with great actual and future horizons, where startup/entrepreneur spirit is still reigning.
An attractive salary package with many non-financial benefits: company phone and laptop, hospitalization insurance, group insurance, parking spot in the center of LLN (or an office that is easily accessible via public transport!), eco vouchers, Internet subscription, etc.
Why join Qualifio
Working at Qualifio, you'll be part of a culture that puts people first (both our employees and our customers). On the other hand, we understand the need for work-life balance. And we believe that everybody who's part of our team should be supported to develop to their fullest potential.
If you're thinking about a role at Qualifio, here's what you should know about us:
We seek to understand customers in everything we do.
We have a life outside of work (and we want to keep it that way!)
We are proactive and accountable in our roles.
We're genuine, honest, open collaborators who work effectively together.
We are eager to learn and improve every day.
Have a look at our Instagram to get to know the team!
Who you are
You have a similar experience as a Product Manager or Product Owner in the SaaS sector.
You have a good interest in technology, and an overall understanding of the MarTech environment (digital, data, and analytics).
An experience in loyalty programs is a big plus
You are at least fluent in English, French is a big plus (writing and speaking).
You have organizational, time management, and documentation skills.
You pay attention to details while always having a helicopter view.
You are eager to learn, proactive, curious, and independent (though you also know how to be a team player).
You have sharp analytical and problem-solving skills.
You have interpersonal and communication skills: you are capable of building relationships with team members and customers and you clearly communicate to the team.
User Experience (UX) is not an empty word to you.
You are able to translate business needs into technical specifications.
You are eager to learn
You are a team player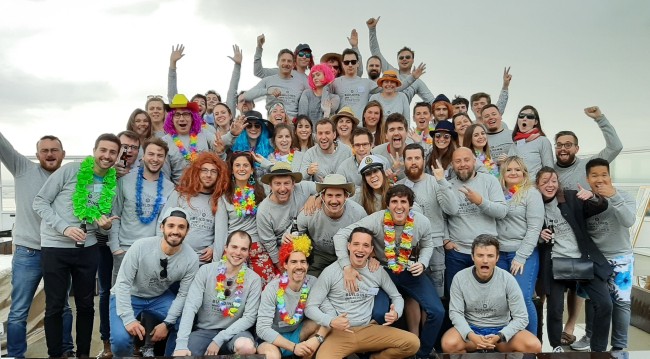 Terug naar zoekresultaten