This hands-on training will provide you with in-depth knowledge of VueJS framework (version 2.5.17), including features such as the vue-cli, vuerouter and vuex. During the three days, you will work in 2 real applications to fix bugs and add new features to make them run again to put intro practice all the theory that will be covered.
<< Deze opleiding wordt gegeven in het Engels door de experten van Hackages >>
The challenges:
Tesla needs your HELP! Some of their competitors have been messing up with their code and the calculations for their cars are not correct. After several attempts to solve this, they are shouting out for help! They are looking for JS developers who want to help them fix their calculator and learn VueJS in the process. Not convinced yet? The mentors are also assembling a team of devs to fix the VueJS application of HackFlix. HackFlix is a video streaming website serving 148 million users, whose evil the evil competitor Hackazon Prime is trying to destroy.
Have a look at how the training looks like here.
What is the required knowledge to join this workshop?
You need to be comfortable writing JavaScript. You need to know what is the spread/rest operator, how to deal with async programming (typically fetching data from a server using Promises). The concept of this in JavaScript should not scare you. No prior React experience is required. Git knowledge is not required.
About the teachers
Victor Bury (Open Source Engineer at Hackages)
With a Bachelor in Informatics and Systems, Victor Bury works as a Full Stack Developer at Hackages since 2017 but has been building pages and coding since he was 12. As an avid gamer, Victor built his first website around a gaming group he had with his friends.
Victor's focus is on JavaScript, and he masters Angular, React, NodeJS and especially VueJS. Since this progressive framework was released, he dived into it and became a coach building workshops and trainings around it.
At Hackages, he works on internal projects and coaches companies such as IPM and Gaming1. He also coaches young developers starting their professional career at Hackages and gives workshops in international conferences such as JS Nation, Reactive Conference and dotJS.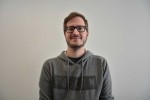 Antony Antoine (Open Source Engineer at Hackages)
Anthony Antoine is a passionate developer with a great focus on VueJS. In his years on the field, Anthony has acted as consultant in different companies including Altissia International, IPM and ACTITO, but has also greatly contributed to Hackages internal projects.
Since his student' life, he was actively involved in events and Hackatons to broaden his skills, such as the ones organised by ING and École 42. Eager to learn and to share, Anthony gave trainings on VueJS during the dotJS conference in 2018 and continues to spread his JS know-how in meetups and workshops at conferences such as JS Nation. He also enjoys a good beer after a nice day of coding, and can for sure recommend you the best ones not to be missed!
Korting tot 50%
Is je bedrijf nog geen lid van FeWeb, dan is dit het moment! Zo verdien je meteen je lidgeld geheel of gedeeltelijk terug.
Daarnaast kan je beroep doen op de KMO-Portefeuille (als je bedrijf in Vlaanderen ligt) en op de opleidingspremie van Mediarte (als je bedrijf onder PC 227 valt) of van Cevora (als je bedrijf onder PC200 valt). Zo kan je maximaal de helft van de deelnamebijdrage recupereren.
Deze opleiding is een samenwerking van FeWeb en 2Mpact.
(2Mpact beschikt over de KMO-portefeuille-erkenning (nr. DV.O207084) voor het organiseren van opleidingen van organisaties).