Back-end & data engineer
We are look­ing for a back-end & data engi­neer to help us build the next gen­er­a­tion of data-dri­ven prod­ucts.
Your pri­ma­ry focus will be the devel­op­ment of busi­ness log­ic and the def­i­n­i­tion & set­up of data­bas­es. You also ensure high per­for­mance and respon­sive­ness to requests from mul­ti­ple applications.
You will dis­cov­er infor­ma­tion hid­den in vast amounts of data and help us make smarter deci­sions in order to deliv­er even bet­ter prod­ucts. You like doing sta­tis­ti­cal analy­ses or build­ing rec­om­men­da­tion systems.
You are involved in all projects from con­cept to com­ple­tion and have a deci­sive voice through­out the entire project. This includes analysing exist­ing solu­tions and mak­ing rec­om­men­da­tions for the tech­ni­cal approach as well as the archi­tec­ture.
Exper­i­ment­ing with libraries, solu­tions, and new data tools is sec­ond nature to you. A suf­fi­cient base of skills is required, but your dri­ve and pas­sion are your most impor­tant assets.
Your skills
Good programming skills, with knowledge of DDD
Proficient knowledge of a back-end programming language: preferably Javascript (must), Python and PHP
Creating database schemas that represent and support business processes
Good applied statistics skills, such as distributions, statistical testing, regression, etc.
You analyse quickly & can also communicate well to stakeholders.
You can work with MySQL or NoSQL databases.
You can use and create safe and efficient APIs. You prefer GraphQL.
You keep thinking about reusability.
For the perfect collaboration, you have experience with Git (-flow) and CI.
Affinity with data visualisation and open data is a plus.
Affinity with cloud solutions in AWS or Azure is a big plus.
Experience with common data science toolkits (such as R, Weka, NumPy, MatLab) is a plus.
Affinity with AI, Machine learning and Deep learning is a plus.
Personality
You are an early adopter and you are always curious about more and better.
You want to be part of our knowledge-sharing culture, also outside our team (with our international friends and subsidiaries).
You have a positive attitude and are keen to get it "perfect", but of course as a team player.
Problem solving is your middle name: you believe there is always a solution, even if you can't find it on StackOverflow.
You are not trying to come up with code that already exists.
You like open source, and cloud based solutions.
We offer
A warm welcome from our close-knit and talented team.
Real top projects for clients such as Club Brugge, Studio100, VRT, UGent, ...
You can talk 1-on-1 with our lead devs during the selection (they'll tell you the nitty-gritty about the job).
The opportunity to work on the latest tools and experiences for national and international organisations.
A place in a team with a family feeling.
The best laptop and hardware available.
The latest platforms available (VR dev kits, Apple dev kits, Arduino kits …).
Flexible working hours (really flexible ...).
Work from home or in our cosy office in Bruges, near the E40 and the station.
A generous budget for books, training, or conferences.
An attractive salary with extras.
Inspiring conversations during the daily lunch :)
We encourage personal growth by giving you the opportunity to develop your own ideas and products.
>>
Apply here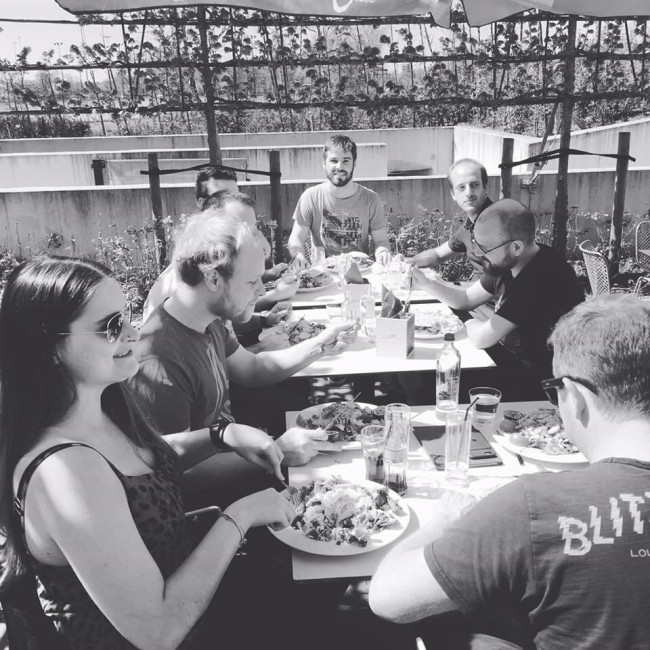 Back to search results