Front-End Developer in Ardooie
Front-End Developer in Ardooie
In search of a great addition to our IT development team?
Are your coding skills on point? Do HTML, CSS and JavaScript no longer have secrets for you? Do you take pleasure in delivering a user-friendly website? Do you get even more excited if that website gets found easily on the internet? Wait no longer and become Nayan's newest front-end developer!
Main objective?
Making sure that our end-users can easily find our various websites on the internet and that these websites are both user-friendly and visually appealing.
How you achieve that main objective is totally up to you. However, ideally you should recognise yourself in most of the following characteristics:
You know the ins and outs of constructing a website that runs smoothly across several devices. After all, we both want Bill Gates to be able to enjoy our websites on his Microsoft desktop and Tim Cook on his iPhone 11, don't we?

'Giving up' is not part of your vocabulary. Even after you have run the 50th test you keep looking to finetune the website before actually launching it and making it accessible to the public.

You do not shy away from coming up with your own ideas when discussing projects with other team members. On the other hand, you critically consider all the pros and cons of your other team members' suggestions. Teamwork makes the dream work, however, you can perfectly work on your own as well.

You have an appropriate Bachelor degree in your pocket or you are equally skilled by experience.

You are no stranger to HTML, CSS/Sass, Vue.js (and JS in general) and GIT.

Since you work in a dynamic international environment that changes every single day, you understand that retraining on a regular basis is of paramount importance in order to remain competitive.
Did you tick most or even all of the boxes? Then you are most likely the person we are looking for! Feel free to reach out to us so we can meet in person. After a casual job interview with our HR manager Evy Dubois your future fellow colleagues from the IT development team will explain to you step by step what a normal day at the office looks like. They will answer all your questions and will make you feel at home right from the beginning.
>> https://jobs.nayan.be/nl/front-end-developer
Nayan is de partner waarop merken en producenten een beroep doen om online verkoopkanalen te ontwerpen, bouwen en beheren. Voor elke online shop die dat wenst, slaan we de goederen op en verzorgen we de internationale distributie ervan. Voor anderen integreren we ons platform met hun SAP/ERP-backend. Met een minimum aan investeringen van uw kant, breiden we uw klantenbestand uit, integreren we uw online en offline verkoopkanalen, verbeteren we uw marge en verhogen we uw verkoop.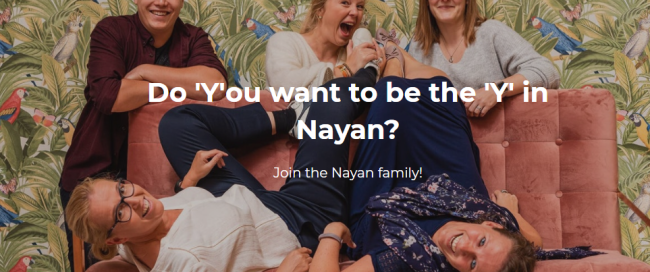 Back to search results