Duo & NMBS: Flutter app voor de Hello Train Campagne
Duo & NMBS: Flutter app voor de Hello Train Campagne
2021 is Year of Rail in Europa, een mooie gelegenheid om onze NMBS flink in het zonnetje te zetten! NMBS, Panama Events en Duo sloegen de handen in elkaar om de nationale Hello Train campagne vorm te geven en te verwezenlijken 💪. Met de gelijknamige Hello Train app dagen we reizigers op een interactieve manier uit met leuke opdrachten.
De uitdaging
Een leuke, interactieve en gebruiksvriendelijke app waarmee treinreizigers punten kunnen verzamelen. Hoe meer punten ze vergaren, hoe groter de kans op het winnen van leuke prijzen. Door mee te doen aan de verschillende spellen in de app leer je bij over NMBS, op een educatieve manier.
De oplossing
Een mobile iPhone en Android application van de bovenste plank, ontwikkeld in Flutter. De app communiceert met een JHipster backend, waar onder andere alle spel-logica plaatsvindt en de ranking wordt bijgehouden. We maakten tevens ook een backoffice met JHipster waarin NMBS op een vlotte manier de content van de app tijdens de gehele doorlooptijd van de campagne kan beheren. Last-minute wijzigingen aan quizvragen of tekst in de app kunnen vliegensvlug en autonoom door NMBS zelf worden toegepast, zonder onze tussenkomst.
De resultaten
De Hello Train app: van 16 september tot 7 oktober kunnen treinreizigers op een interactieve en plezante manier punten verzamelen, door objecten en hotspots te scannen in stations doorheen het land. Om het puntensaldo nog wat op te krikken en in een hoger prijs rijtuig te belanden, vallen er nog veel punten te verdienen met leuke quizvragen. Tip: hou de informatieve wist-je-datjes die op regelmatige tijdstippen in de app verschijnen goed in de gaten! Ze zouden nog wel eens van pas kunnen komen ;-).
Lees de complete case van NMBS hier.
Benieuwd naar meer uitdagingen? Bekijk onze website.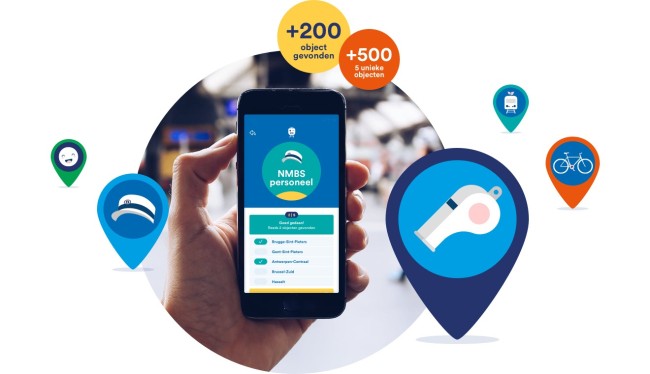 Back to search results